Mac Garageband song files can be afflicted by the dreaded 8 Bit Bug error, which can occur at random in audio files recorded using Garageband and stored within the Garageband song files. This 8 Bit bug is caused by faulty settings within the 'm4a' sample or effect media files within the Garageband song.
The 8 bit error was brought to my attention by a user of my Garageband Mac To iPad + Mini iPad File Converter and the error messages and quite unequivocal as can be seen from the iPad screen dumps below.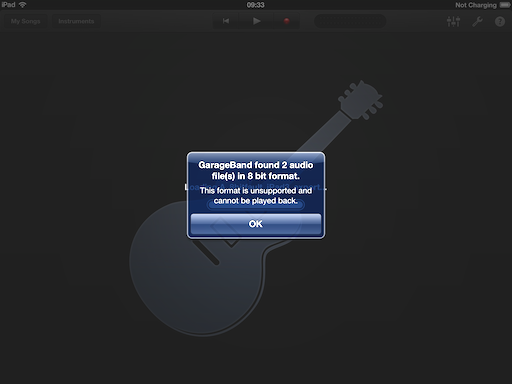 Always one for a challenge, I analysed a number of faulty songs for customers and have repaired many valuable large files, but editing the m4a sample or effect files is a random process at best, its also timing consuming and does not always produce an effective fix.
After must experimentation I discovered that converting the original m4a files to WAV or AIF files would allow the song to be open and was an effective fix, of course the only real problem is that the song becomes substantially larger due to the uncompressed nature of the wav or aiff files over the smaller m4a.
Having undertaken this tedious and repetitive manual conversion many times I decided to right a program to automatically fix the broken song file and to output a seperate folder of the m4a faulty files for the user to keep.
The program works remarkably well, you double click on it and it asked you to select your broken 'Archived' Garageband Song File:
It the generates a new folder and the old file is now fixed. That simple.
If you have questions about the fixer please post them on the appropriate item on my blog at:
Fixing or Repairing the Garageband 8 bit Song Error
This program was created as part of the fixed1t suite of Apple Garageband helpful tools to ensure that composers can concentrate on composing rather than file editing.
If you would like a 3 day trial click on the email link below:
Send your email to: fixed1t Garageband Song 8 Bit Error Fixer trial
When you've used this a few times, I hope you'll be willing to purchase an unlimited copy for just £15 UK pounds using the PayPal Buy Now below or go back to the software page and ADD TO CART.
Please be aware, I hand build a personalised copy with the latest software here in the UK on receipt of clearance from Paypal, so there may be a slight delay in your receiving a copy.
This is not an 'old version' automated software delivery service.
Thanks fixed1t.
---